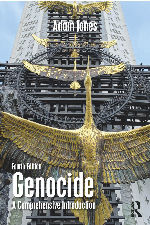 Genocide: A Comprehensive Introduction,
Second Edition
By Adam Jones, Ph.D.
Routledge/Taylor & Francis Publishers, 2010
Text Excerpts
These excerpts from the 2010 second edition are posted by permission of Routledge/Taylor & Francis. They are in .pdf file format (requires the Adobe Acrobat reader). The excerpts may be freely copied and distributed for educational and other non-commercial purposes, if the author and publisher are credited. They should not be reposted on the Internet.
See also the complete Table of Contents for Genocide: A Comprehensive Introduction.

| Why study genocide? | What this book tries to do, and why | Acknowledgments |

| Genocide in prehistory, antiquity, and early modernity | Naming genocide: Raphael Lemkin | Defining genocide: The UN Convention | Bounding genocide: Comparative genocide studies | What is destroyed in genocide? | Multiple and overlapping identities | Dynamism and contingency | The question of genocidal intent | Contested cases of genocide | Is genocide ever justified? | Further study

| Introduction | Origins | The turn to mass murder | Debating the Holocaust |

(Note: cut for the second edition of the book, this is now archived on the website.
It may also be used copyright-free for educational purposes.)

|
Ordering Information
|
Text Excerpts
|
Table of Contents
|
|
Bibliography
|
Filmography
|
Teachers' Resources
|
|
Links
|
Genocide: A Personal Journey
|
Genocide Studies Media File
|

Website designed and copyright 2005-10 by Adam Jones.


adam@genocidetext.net