Don't miss these other
fine volumes:
Edited by
Adam Jones
Evoking Genocide
compiles a wide selection
of essays, all but two
original to the book,
written by leading
scholars and activists
in the field of genocide
studies. These authors pay
eloquent tribute to the
works of art and media that
influenced their engagement
with genocide and crimes
against humanity. The
subjects include books
and stories, films, songs,
drawings, documents,
monuments, sculptures,
personal testimonies
-- and even a Lego set.
Link to the
Evoking Genocide website
for further details and ordering info.
---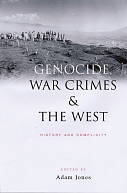 Genocide,
War Crimes
and the West
Edited by
Adam Jones
"This exceptionally
well selected, brilliantly
edited collection provides
the most comprehensive
treatment of Western
responsibility for mass
atrocity yet published.
The cumulative impact of
the volume is a devastating
indictment of state terrorism
as practised by the West,
both historically, and now
after September 11 in the
name of 'anti-terrorism.'"
- Richard Falk, Professor
Emeritus, Princeton
University
Link to
ordering information
and a full
table of contents.
---
Edited by
Adam Jones
The most wide-ranging
book ever published on
gender-selective mass
killing, or "gendercide,"
this collection of
essays is also the first
to explore systematically
the targeting of non-
combatant "battle-age"
males in various wartime
and peacetime contexts.
Link to
ordering information
and a full
table of contents.
---